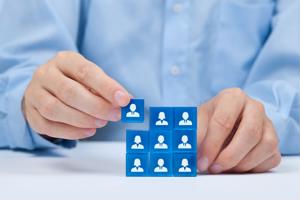 Let's Talk Customer Relationship Management
Customer relationship management has become a much different animal in the past few years, especially given the increasingly diverse range of devices and software used by businesses to interact with their clientele. Some leaders have viewed this as an opportunity, overhauling their management frameworks to gather and analyze all of the data generated for better decision-making and enhanced customer experiences across various channels and platforms.
Others have been disrupted by these trends, not making the necessary changes in a timely fashion and missing out on their chances to refine client-facing processes as a result. Suffice it to say that the former group will be far better-positioned to excel in the coming years, as the diversity and volume of technologies that generate client data are expected to continue growing for the foreseeable future.
Frost & Sullivan recently released a report that pointed to the melding of IT and marketing, as well as the rapidly transforming standards and practices associated with cross-channel CRM. In the report, the retail sector will be especially aggressive in its use of advanced, integrated technologies that bring together collaborative apps and backend IT, as well as progressive social media strategies, to become more effective in its handling of customer interactions.
Other sectors are sure to follow suit in the coming years.
If you would like a comprehensive rundown of CRM software, check out this 30-minute video from Eli the Computer Guy that provides a thorough introduction on the matter:
Small-business owners must ensure that they are keeping up with the times in this regard, proactively deploying solutions that can be used to improve the overall experiences customers have with their brands. With the right combination of streamlined processes, deployment of advanced CRM software and plenty of attention to data management and analysis, the sky will be the limit with respect to conversion and retention improvements.
Plenty of road to travel
Gartner recently argued that too few companies are actually capitalizing on the universe of new customer data generated and collected, hindering what should be a highly positive and advantageous trends across industries. When information is not properly managed, or if leaders are not setting up their firms to leverage data in a smooth and efficient analytics process - including those within CRM software - the digital era will not be all that different from the one that came prior.
It is worth noting that certain industries have been a bit better and more progressive in their overhaul of CRM data management, including retail, but virtually all organizations can benefit from these types of strategic changes. According to the analysts, even businesses that have deployed analytics solutions might not be getting these programs right, and it might be a symptom of outdated models and strategies that govern the use of the technologies.
"Digital business is having a significant impact on customer data," Gartner Vice President Douglas Laney explained. "The growing wealth of information - from social media, location and context-sensitive data collected from mobile devices and the Internet of Things - is increasing the volume, velocity and variety of that information, radically expanding the scope of the 360-degree customer profile."
As consumers begin to adopt a wider range of devices through which they will interact with businesses, it will be up to managers and other leaders to prepare their strategies for the opportunities involved. General information governance and archiving techniques will need to be adjusted to make way for these forthcoming changes, while IT, customer service and marketing departments should be a bit more collaborative to get the job done.
What's more, Gartner argued that the "infonomics principle" might be useful in these times, which the firm defined as a being the application of traditional physical asset management techniques to data governance. Considering the fact that information has long been held as the lifeblood of any organization - its greatest asset - this approach should already be in place.
"Organizations should use valuations of their customer data as the basis for prioritizing investments in technologies that help them acquire, maintain, enrich, archive and apply information," Laney added. "They should also calculate thorough business cases when designing monetization products."
When companies get the strategic aspects of CRM into a good spot, they will be better-positioned to excel with modern and future trends in the relevant marketplaces.
"Social CRM is gaining steam among many organizations."
Social growing
PC Magazine recently argued that social CRM is beginning to gain steam among a range of organizations, especially as it has become clear that the average consumer is turning to these channels to communicate more so with the passing of each year. All of the data generated by direct interactions with customers, as well as indirectly created through behavioral analysis in these platforms, is combining to give marketers and client services employees greater authority over their processes.
As the source pointed out, this data should be viewed as "invaluable" by small-business owners and others, as it can quickly uncover trends in customer preferences and behaviors, all the while generating insights that can be used to improve brand management strategies. According to the news provider, one sign that social media CRM and marketing are finally beginning to spread is the immense investment flowing into Facebook-based ads.
Not so long ago, social was viewed as a powerful tool for customer retention, but not all that valuable of a resource for marketing. Now, thanks to the progressive changes taking place among some of the biggest names in social media, the channels are increasingly well-suited to all types of customer-facing initiatives. PC Magazine illustrated this by citing the fact that companies invested nearly $3 billion in Facebook ads in the second quarter of this year.
At the end of the day, small-business owners will need a streamlined and efficient model to manage all forms of customer-related content, and cloud-based CRM solutions might be the best options available today. With greater scalability and enhanced analytical capabilities, these tools can quickly improve performances in relevant departments.